Frequently-asked Questions in Relation to the Sheraton Frankfurt Airport Hotel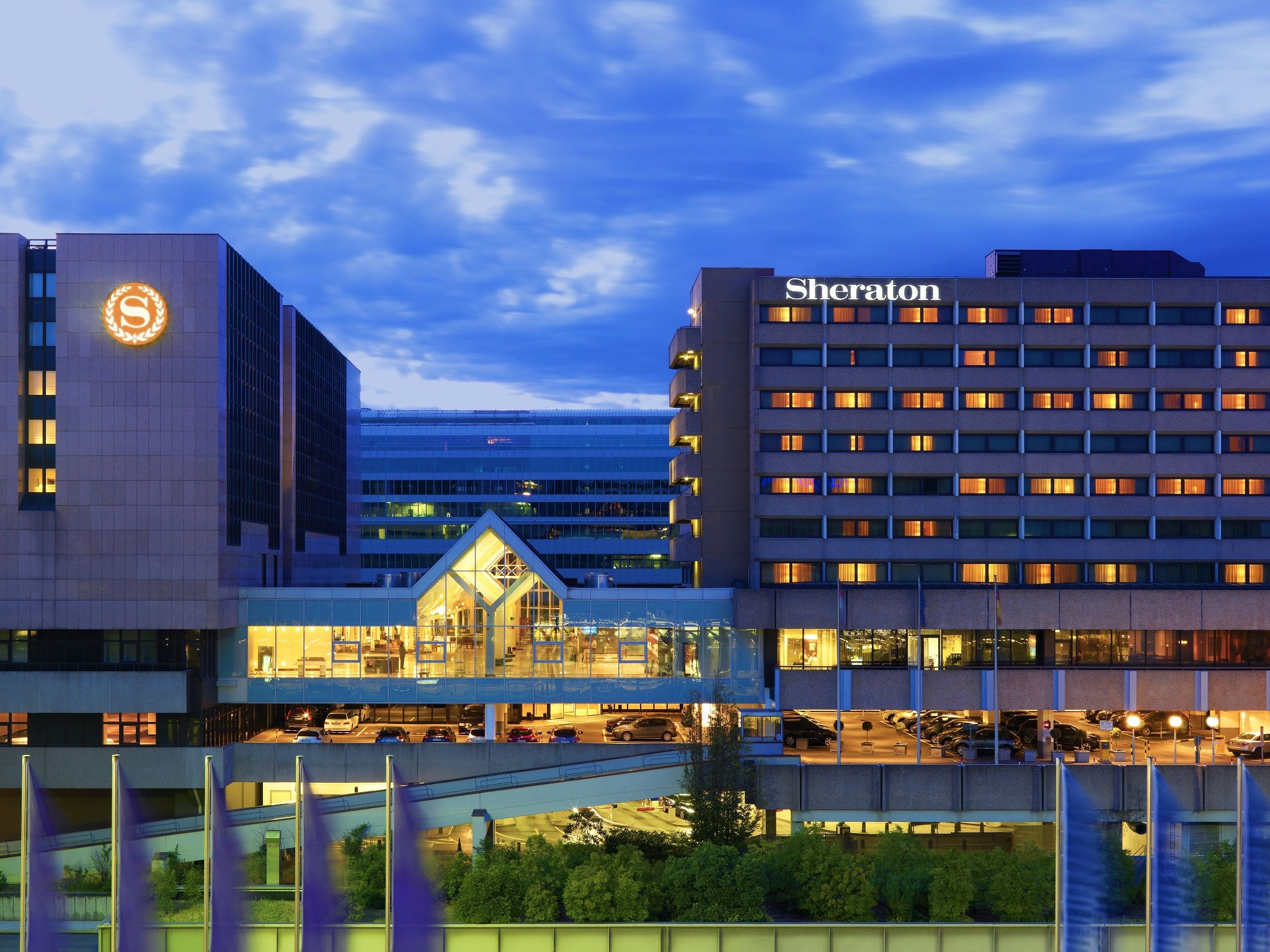 FAQs
Here, you can find answers to frequently asked questions in relation to your stay at the Sheraton Airport Hotel in Frankfurt.
Here, you can find answers to frequently asked questions in relation to your stay at the Sheraton Airport Hotel in Frankfurt. Call us via +49 69 6977 0 or email us:reservationsfrankfurt@sheraton.com

... or send us a message via What's App, iMessage oder BBM to this number: +49 (0) 171 686 7212 . Our Guest Relation Team is happy to assist you 7 days a week!
1. How much is value-added tax?
Our prices include the respective statutory value-added tax. If there is an increase in value-added tax after the room has been booked, the rate of value-added tax at the time of the stay is applicable. The price of the overnight stay can increase as a result of this.
2. Which payment methods does the hotel accept?
The Sheraton Frankfurt accepts cash and credit card transactions. Please note: Payment with an EC card or cheque is not possible.
3. How much does an extra bed cost?
An extra bed costs € 75 per person.
4. How much does breakfast cost and what are the breakfast times?
The breakfast buffet in our Flavors restaurant costs €32 per person. The Flavors restaurant is open at the following times:
Monday to Friday: 06:30 AM until 10:00 PM
Saturday & Sunday: 06:30 AM until 11:00 PM
5. How can I park my car and what does parking cost?
Our hotel has 30 of its own parking spaces at the hotel. Parking costs €5.00 for each hour started and a maximum of €28 per day. It is unfortunately not possible to pre-reserve parking spaces. There are additional parking spaces available at Terminal 1, which cost from €4,50 per hour started.
6. Low Emission Zone: What need to be considered in regards to an Arrival by car?
Our Hotel is not located in Frankfurt's Low Emission Zone. However, please kindly note that all vehicles entering the city region need to be certified with the green fine particle badge. Motorways are not affected by this requirement.
7. What is the easiest way for me to get to the hotel from the airport?
The Sheraton Frankfurt Airport Hotel & Conference Center is connected to Frankfurt airport by means of two pedestrian bridges.

From Terminal 1:
From the departure level in Hall A and Hall C, an escalator leads to a covered pedestrian bridge that is directly connected to the hotel.

From Terminal 2:
Take the Skyline train that goes between Terminal 1 and Terminal 2. From the departure level in Hall A and Hall C, an escalator leads to a covered pedestrian bridge that is directly connected to the hotel.
8. Are there special prices and conditions for children?
Children up to 12 years old can sleep for free in their parent's bed. Beyond that, we charge the normal prices for extra beds.
Children up to 6 years of age eat breakfast at our hotel free of charge; between the ages of 7 - 12 they pay €1 per year of age. Children from 13 years of age pay 50% of the breakfast price.
9. Who do I contact if I want to apply for an internship or apprenticeship?
10. How much does it cost to use the Internet?
Our hotel guests can use Wi-Fi in the lobby and in the Link@Sheraton, the Sheraton Club Lounge and rooms in the categories Sheraton Club, Sheraton Club Suite and Sheraton Grand Suite free of charge. In the Sheraton Executive rooms, the Sheraton Junior Suite and the Sheraton Business Suite, the Internet can be used free of charge for 1 device.

With the other room categories, you can have high-speed internet for a fee. Up to 3 devices can be used with each Internet connection. You can find more information in the description.
11. Are dogs permitted in the hotel and what are the costs?
Dogs are permitted in the hotel. Up to 18kg there won't be any charges, as of 18kg they are charged at €30 per dog.
Please note that taking dogs into the restaurant is not permitted.
12.What are the times for checking in and checking out?
Our general check-in time is 3 p.m.; check-out is 1 p.m.
A later departure or earlier arrival is only available on request and on payment of a supplement. We would be happy to look after your luggage and store it for you.
13. Smoking prohibited
Both non-smoking rooms and a limited number of smoking rooms are available. Guests who do not adhere to the smoking ban in non-smoking rooms will be charged a cleaning fee of 200 US dollars. Smoking is not permitted in all other public areas.
14. What is the quickest way to get from the hotel to the trade fair site?
You can get to the Frankfurt trade fair site easily and quickly by taking the S-Bahn line 8 or 9 towards Hanau, getting off at Frankfurt main railway station. From there, you take the U-Bahn line 4 towards "Brockenheimer Warte" and get off at "Frankfurt Festhalle / Messe". The journey takes about 20 minutes.
15. What is the best way to organise an assumption of cost?
Please use the form we provide for cost transfer. Credit card authorisation can only be sent by fax on +49 (69) 6977 2219 Due to our data protection conditions, and for your own safety, we do not accept any credit card data that is sent by e-mail.
16. How do I pay by means of an invoice?
Invoices can only be sent to companies within Germany. The company making the payment must send a fax on company paper, requesting the invoice. It must state which costs are to be invoiced. This must be agreed before the guest arrives.
17. Where do I get gift vouchers?
For buying or using a gift voucher, please contact the hotel directly on (+49) 69 69 77 22 01.
18. What must I be aware of in relation to currency rate fluctuations?
For hotels that are not in the USA, the stated prices for your stay may be converted into the local currency. The current exchange rate of the respective hotel is used for this. These are subject to the usual currency fluctuations. Credit card charges are also subject to additional currency conversion costs from banks or credit card companies, upon which the hotel has no influence. They can affect the amount that is charged to the credit card. If you have questions, please contact the hotel.